Oasis International School provides a rich array of extra-curricular activities to enhance students' learning and holistic development. These activities foster creativity, teamwork, leadership skills and personal growth. Students have the opportunity to explore their interests, develop new skills and engage in activities that align with their passions and talents. The extra-curricular activities integrated into the curriculum at Oasis International School ensures a well-rounded education that promotes academic excellence, physical fitness, creative expression and social responsibility.
Physical Education plays a vibrant role in providing a holistic education at Oasis International School. It is thoughtfully integrated into the school's curriculum across all age groups, and our students are encouraged to participate in at least two extracurricular sports activities each term. Physical Education encompasses various exercises, including drills, aerobic workouts, muscle strengthening activities and sports, all conducted by our team of professional coaches during training sessions. Starting from Pre-School, swimming lessons are incorporated into the school timetable and take place in our on-site swimming pool, with a dedicated swimming coach conducting the lessons. Additionally, swimming is also offered as an extracurricular activity after school.
To further strengthen PE, we organize annual Inter-House Sports and Swimming Meets, Cricket Tournaments, Football Playoffs and Karate Tourneys. These events provide students with opportunities to showcase their skills and foster a spirit of healthy competition.
Our PE curriculum is enriched by a range of extracurricular activities offered after school hours. Oasis International School boasts an expansive campus spanning over an acre, featuring our in-house swimming pool, large grounds and spacious indoor and outdoor areas, providing convenient spaces for students to engage in physical activities such as swimming, football, cricket and karate. The school premises itself resemble an oasis, with sprawling trees and shady grounds that have the potential to accommodate various other sports and outdoor activities.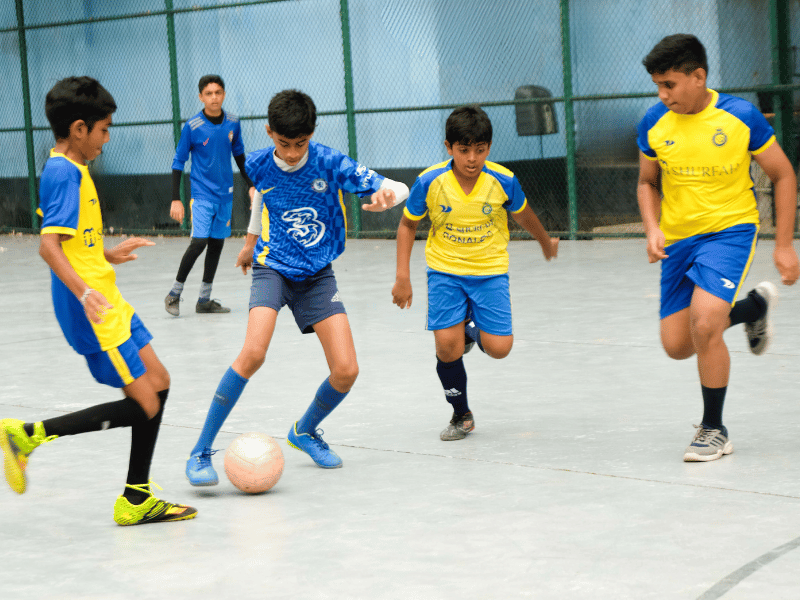 Under the guidance of an exceptional football coach, Oasis International School's football team has achieved remarkable success in friendly matches against various schools. With prior experience coaching the Junior National Team, the coach brings deep expertise to enhance players' skills and tactical abilities through meticulously designed sessions held twice a week. His academic background in Exercise and Sports Science allows him to employ evidence-based training methods for players' physical conditioning and well-being. The coach's dedication to continuous professional development is evident through impressive credentials, including completion of Fitness Training Instructor Course, FIFA Olympic Training Course and holding the prestigious AFC Coaching License. Combining extensive experience, academic foundation, and professional qualifications, he stands as a leading figure in football coaching, solidifying Oasis International School's reputation as a football powerhouse. 
Oasis International School embraces dance as an integral part of its educational philosophy, providing students with numerous benefits for personal growth and development. Dance reduces stress and fosters rejuvenation, while enhancing self-confidence and overcoming stage fright. It offers relaxation and mindfulness, improving physical fitness and flexibility. The dedicated dance faculty, with impressive credentials, guides students towards excellence in various forms, nurturing their talent. Students' achievements extend beyond the school, with participation and recognition in external competitions. At Oasis International School, dance is a transformative experience, empowering students to discover their artistic potential and cultivate lifelong skills.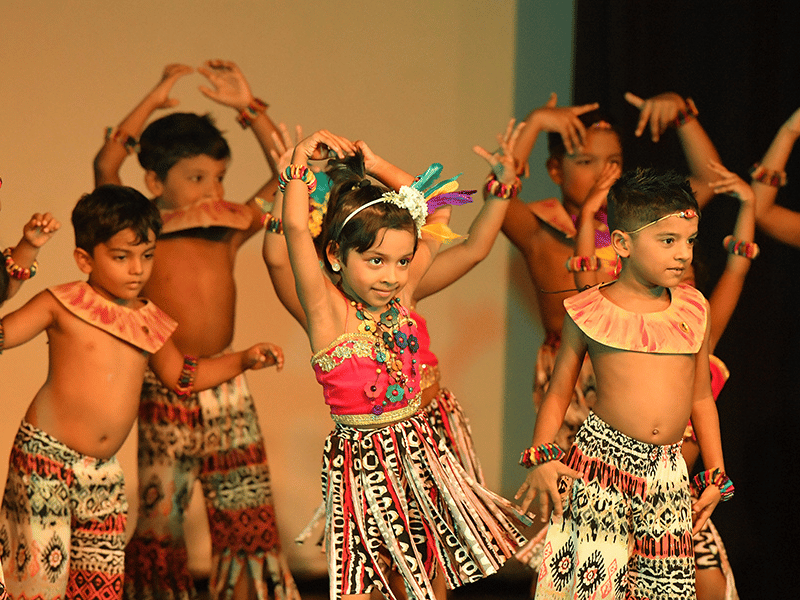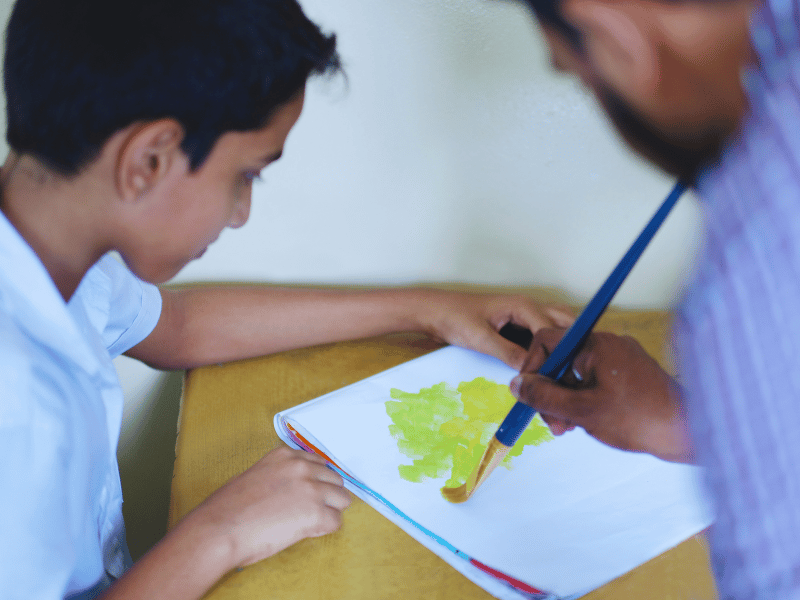 At Oasis International School, art education holds transformative power, nurturing essential skills in students. Beyond aesthetics, it enhances visual and spatial abilities, fosters literacy and communication through self-expression, and encourages critical thinking. Engaging in art refines motor skills and problem-solving, while exploring diverse cultures promotes empathy and global awareness. Supported by dedicated Art Teachers, the school takes pride in students' achievements showcased in exhibitions and competitions. The commitment to fostering artistic expression creates an environment that cultivates creativity, individuality, and a lifelong appreciation for the arts.
Oasis International School prides itself on providing exceptional training in Western Band and Choir, creating a harmonious and enriching musical experience for students. The school places a strong emphasis on musical education, offering comprehensive instruction in instrumental and vocal performance to nurture students' passion for Western music traditions. The Western Band program excels in training students to play various instruments and appreciate music, while the School Choir refines vocal talents through intensive instruction and practice. Opportunities to perform on stage enhance musical abilities, instilling confidence and a sense of accomplishment. Oasis International School's commitment to music education ensures a well-rounded experience, allowing students to thrive and excel in their musical pursuits.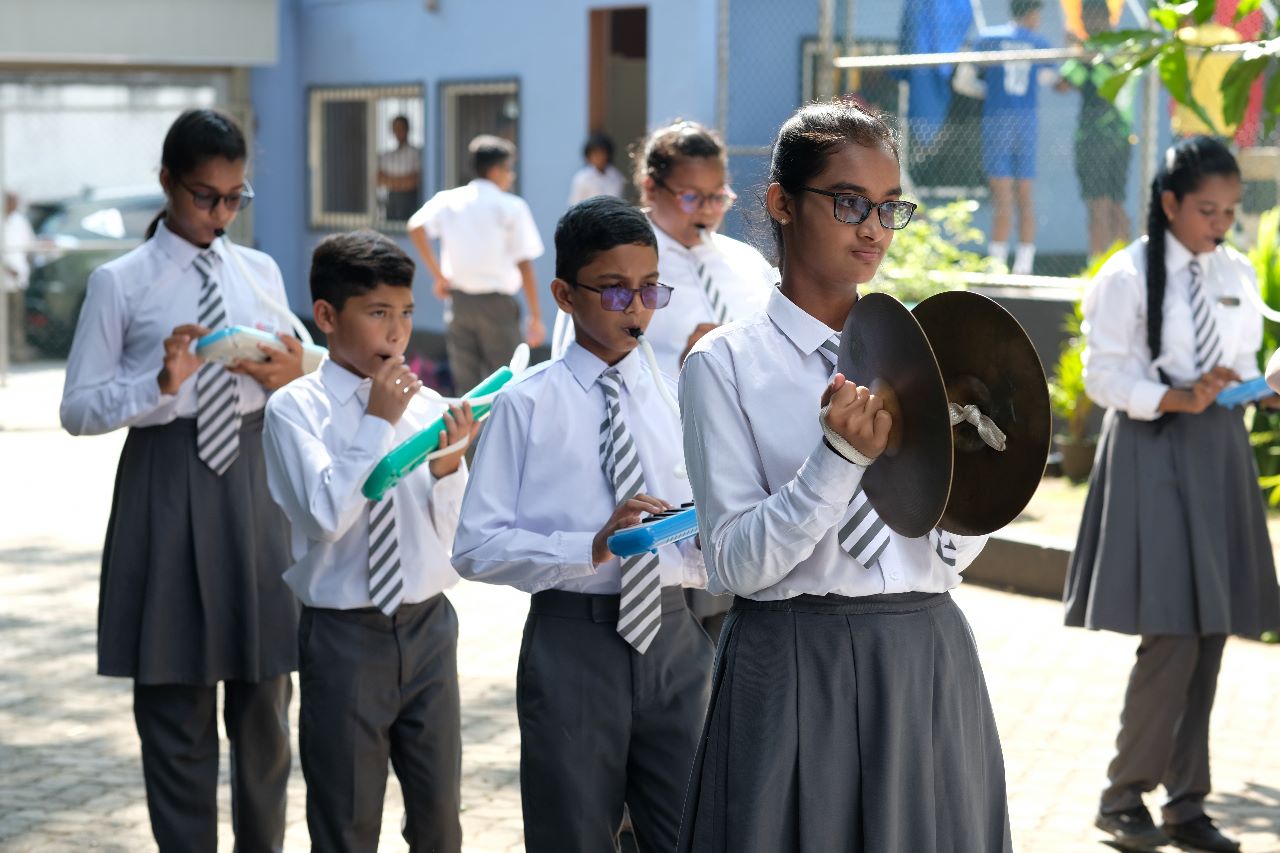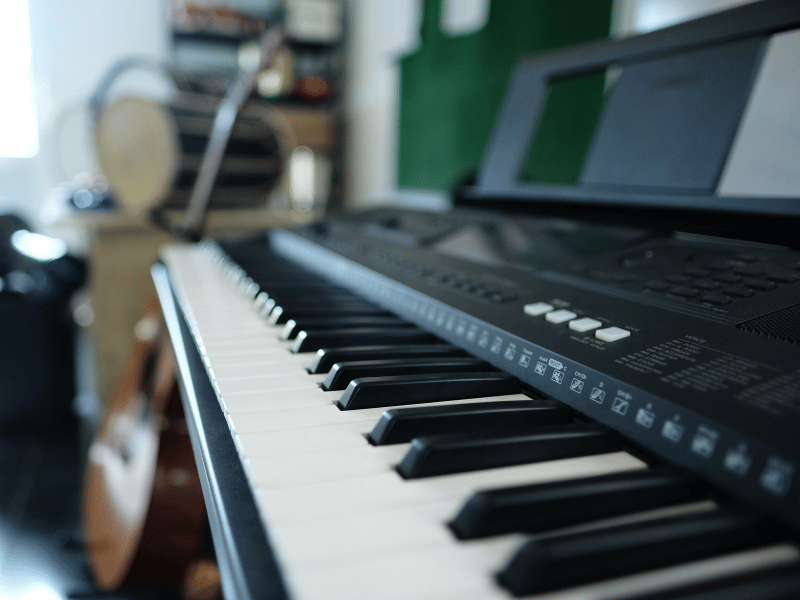 Music thrives as an indispensable part of our vibrant school atmosphere, guided by a dedicated teacher who ignites students' passion for music. Besides vocal training and esteemed school choir participation, students explore a variety of Western and Oriental instruments, creating a rich musical tapestry. Throughout the year, numerous events provide opportunities for budding musicians to showcase their talents, from concerts to talent shows and special assemblies. Our highly qualified music teacher, with 16 years of experience and recognition from the International Institute of Music Speech and Drama, nurtures students' musical talents, fostering growth and instilling a lifelong appreciation for the power of music. Music becomes a transformative journey, an integral part of our school's identity and an inspiration for students' engagement and exploration.
Oasis International School has an impressive record of nurturing exceptional athletes who consistently achieve remarkable feats in Divisional and Zonal events. Their students excel in various disciplines, earning second and third place accolades in events like Javelin, Shot Put, Discus Throwing and High Jump. The school's representation in athletic meets has been remarkable, with a high number of finalists demonstrating consistent excellence across different disciplines. External institutions have recognized and honoured their talented athletes with full grants and scholarships, eager to support their athletic journeys. Oasis International School takes immense pride in their students' achievements and fosters an environment that nurtures their passion for athletics, enabling them to make a lasting impact in the sporting world.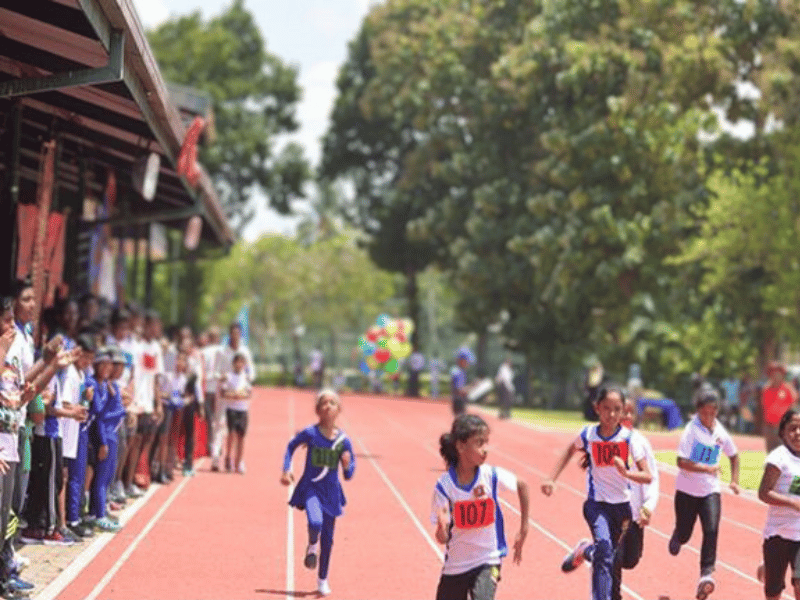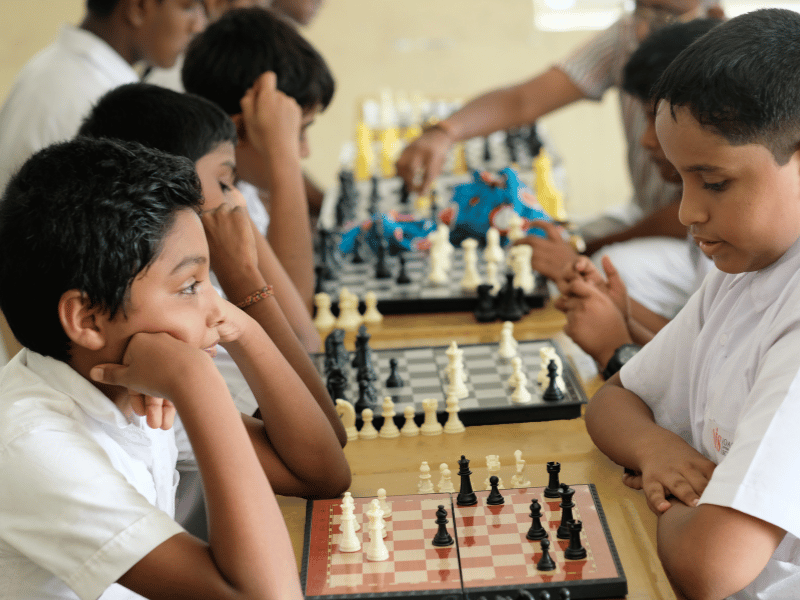 Oasis International School's Chess Club attracts passionate students who excel in prestigious competitions and represent the school with pride. Notable achievements include Semi-Final and Final placements in renowned events like the Colombo District Youth Chess Championship and Yoshida Challenge Trophy. Inter-House Chess Tournaments promote camaraderie and sportsmanship within the school. The dedicated chess coach's exceptional skills and track record of training national champions make him invaluable. His ability to nurture talent and inspire a love for the game sets him apart as an exemplary coach, promising further triumphs and the development of future champions under his tutelage. The Chess Club thrives as a hub for nurturing chess enthusiasts within the student body.
Swimming is a cornerstone of Oasis International School's Core Curriculum and thriving Extra-Curricular Program. The in-house pool, equipped with state-of-the-art facilities, serves as an ideal environment for learners, fostering a comprehensive swimming program. Students' achievements are remarkable, earning nominations for National Level competitions and attracting attention from renowned institutions. Many have received prestigious scholarships and financial support, reflecting the outstanding coaching they receive. A highly experienced coach with an impressive career spanning 33 years, leads the program. He brings a wealth of knowledge and a profound understanding of athletic development to the poolside, instilling discipline, perseverance and teamwork in budding athletes. Swimming at Oasis International School is a transformative experience that nurtures talent and cultivates the next generation of aquatic sports leaders, inspiring greatness among students.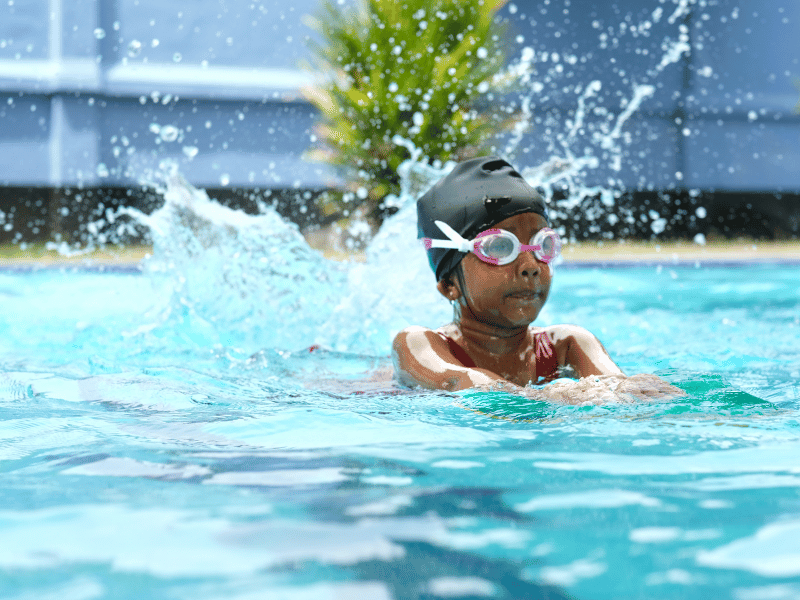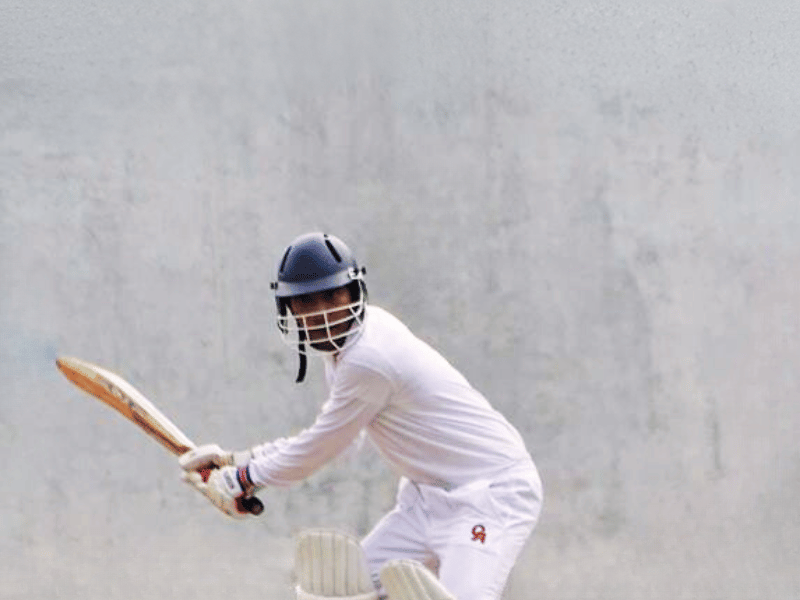 At Oasis International School, cricket holds a significant place, nurturing students' passion through prestigious events like the National School Cricket Association Matches in June 2018. Cricket practice is an integral part of the Extra-Curricular program, providing ample opportunities for skill showcasing and pursuing their love for the sport. Under the guidance of a highly specialized cricket coach, an accomplished player in Mercantile Matches and a valued member of the MDG Cricket Team, students receive top-notch coaching and mentorship. Witnessing their coach's commitment and passion fuels their aspirations, motivating them to push boundaries. Cricket at Oasis International School fosters not only a love for the game but also vital life skills like teamwork, discipline and perseverance, contributing to personal growth and excellence.
Oasis International School provides comprehensive Karate training under a skilled and certified Fifth Dan Black Belt expert. Students excel in prestigious National Tournaments, showcasing exceptional skills and sportsmanship. The trainer's diverse sports background fosters a well-rounded physical education approach, instilling athleticism, discipline and personal growth. Karate plays a vital role in students' holistic development, promoting fitness, self-confidence and mental resilience. Under the expert guidance, students not only learn the technical aspects of Karate but also valuable life skills like discipline and perseverance. The dedication of the trainer and students creates a vibrant Karate community, leaving a lasting impression with remarkable performances on the tournament stage.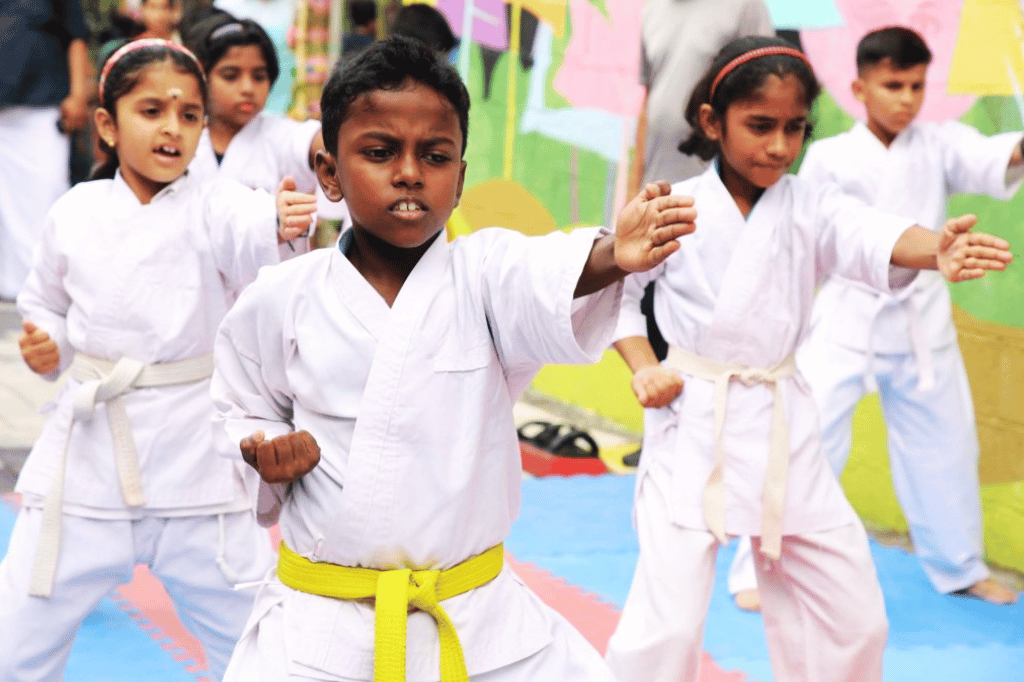 Sportsmanship is
Highly Valued
At Oasis International School, where students are encouraged to embody the principles of fair play, respect and teamwork both on and off the sports field. The school instils in students the importance of displaying good sportsmanship, regardless of the outcome of a game or competition. Students are taught to respect opponents, teammates, coaches and officials, demonstrating integrity and fairness in their actions. They learn to celebrate victories with humility and accept defeat graciously, understanding that sports provide valuable lessons in resilience, discipline and collaboration. Oasis International School promotes an inclusive and supportive environment where students cultivate strong sportsmanship values, fostering a positive sporting culture and nurturing well-rounded individuals who exemplify integrity and sportsmanlike behaviour.