Welcome to Oasis International School! We are delighted to have you join our vibrant and inclusive learning community. At Oasis International School, we strive to provide an exceptional educational experience that nurtures the growth, curiosity and potential of each student.
Situated in the vibrant heart of Colombo, Oasis International School (OIS) was established in the year 2000 and proudly stands as a subsidiary of M. D. Gunasena, a revered century-old company known for its remarkable contribution in teaching the nation to read. Building upon this rich legacy, OIS embodies the visionary ideals, corporate values and innovative spirit that define M. D. Gunasena.
At OIS, we are committed to providing a comprehensive education that aligns with our motto of "Imparting Knowledge and Building Character." Our school offers both the National Curriculum (English Medium) and the British (Pearson Edexcel) prospectus, ensuring a diverse and holistic learning experience. Imbued with a wide range of Core and Extracurricular activities, as well as proactive social service projects, our curriculum aims to deliver a well-rounded education.
Our primary focus is to infuse positive goals and future visions in each of our students, fostering individual skills while enhancing interactive qualities and group dynamics. By cultivating a sense of responsibility and integrity, we mould our students into well-balanced, committed visionaries with a strong moral upbringing. Moreover, we place great importance on nurturing human values such as love, humility, responsibility, integrity and gratitude. In our multicultural and multireligious school environment, we foster empathy and sensitivity towards others, preparing our students to thrive in a global society. We also implant a sense of obligation to society in our students, emphasizing the significance of giving back.
One of our core strengths lies in maintaining a low student-to-teacher ratio, with a maximum ratio of 15:1 and, in some instances, as low as 2:1 in senior school. This ensures that each student receives individual attention, complemented by in-house support classes. Our dedicated teaching staff comprises highly qualified postgraduate, degree and/or diploma holders with extensive experience in the field of education. We take pride in the achievements of our students, who have garnered Pearson Edexcel Advanced Level World-Prizes, a testament to the excellence of our academic programs.
At Oasis International School, we strive to create an educational environment where students flourish academically, emotionally and socially. Through our carefully designed curricula and hands-on community service projects, we seamlessly integrate the quintessential values of human character, enriching both our students and society as a whole.
Nurturing Students' Empowerment: Cultivating Human Values and Enabling Tangible Social Impact
We prepare you to launch your career by providing a supportive, creative, and professional. Our mission is to prepare students to understand, contribute to, and succeed in a rapidly changing society, thus making the world a better and more just place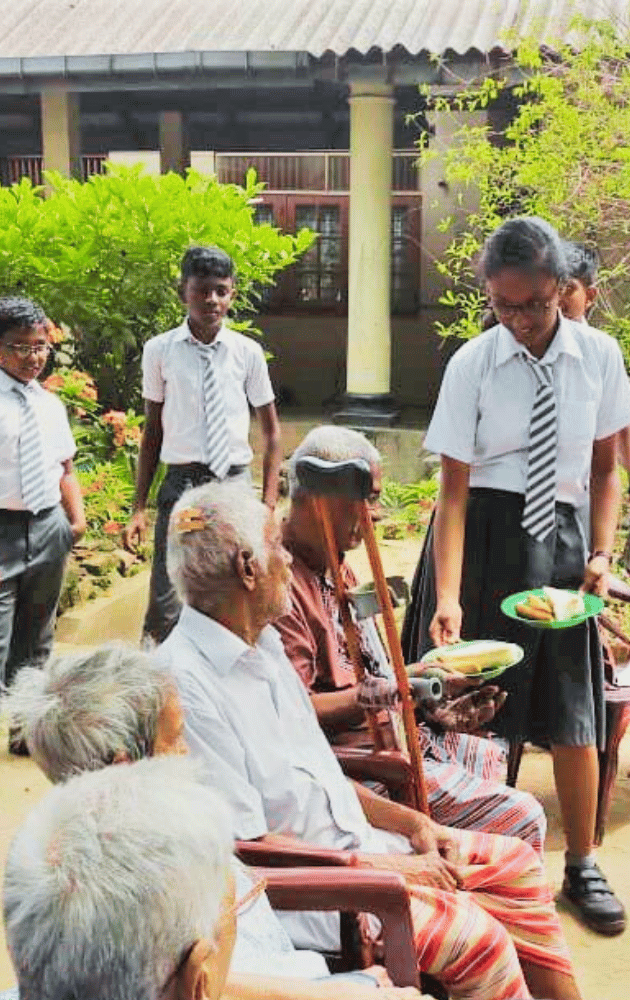 At Oasis International School, we deeply understand and appreciate the profound impact of education on human values and the remarkable transformation that can arise from engaging in social service projects. We firmly believe that a truly comprehensive education encompasses not only academic excellence but also the development of ethical values and a strong sense of social responsibility.
Embedded within our curriculum is a deliberate focus on education in human values, which serves as the bedrock for nurturing our students' character. We strive to instil in them vital qualities such as empathy, compassion, respect and integrity. Our classrooms come alive with vibrant lessons, dynamic discussions and interactive activities that encourage students to explore and embrace diverse perspectives, foster meaningful relationships and ultimately emerge as conscientious global citizens.
To complement the imparting of these values, we actively engage our students in purposeful social service projects. These projects offer invaluable opportunities for our students to make tangible, positive contributions within their local communities and even extend their impact beyond geographical boundaries. Whether they are organizing fundraisers, generously volunteering at local organizations, or spearheading awareness campaigns, our students actively participate in society and acquire a profound appreciation for the significance of service.
By skilfully integrating education in human values with hands-on involvement in social service projects, we aspire to cultivate within our students a profound sense of purpose, boundless empathy and unwavering social consciousness. We firmly believe that these experiences not only fortify their character but also empower them to emerge as catalysts for positive change in the world.
At Oasis International School, we remain steadfast in our commitment to nurturing a profound sense of social responsibility and promoting education in human values. We recognize these pillars as indispensable components of education that transcend mere academics, as they equip our students with the essential qualities and perspectives required to become compassionate, socially conscious leaders who will shape a brighter tomorrow.